By Lila Gray
DALLAS — Teddy Love Bear will now be available through leading online retailer DallasNovelty.com.
The site, which has been in business since 2003 and carries more than 14,000 products, decided to bring on the cuddly sex toy after numerous customer requests in addition to recommendations from fellow distributors, according to a company rep.
The bear stands 20-inches tall and is made out of polyester fur. His vibrating muzzle is made from food-grade TPE, which is hypoallergenic, non-toxic and phthalate free.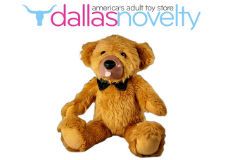 "We are extremely excited to be bringing on Teddy Love Bear as an offering for our customer base," said Dallas Novelty owner Nick Mahler. "In the adult novelty space it is hard to find originality these days, and from the moment we first saw the Teddy Love Bear, we were impressed with the product design as well as its uniqueness. We only carry successful, proven products, so now that Teddy Love Bear has spread its wings in the marketplace and proven to be a quality toy, we are offering it to our Dallas Novelty customers."
Three AA batteries are housed in Teddy's back, which operate its ten-speed vibrating nose and tongue. Teddy Love can be cleaned with soap and water or adult toy cleaners.
The Teddy Love Bear is now live on the site and on sale for a reduced price of $99.99, visit DallasNovelty.com