By Dan Miller
LOS ANGELES — Adult film star Scarlet Red told XBIZ she's thankful she can still go to everyday places and not get recognized.
"I still am able to go to the grocery store I think because I don't have the typical porn star look," Red said. "I think that's what kind of hides me, which I love — don't get me wrong.
"I don't have my boobs done. I don't have my lips done. I don't have super bleached blonde hair. I kind of consider myself the All-American, innocent girl next door. A friend."
It's that shy, humble personality that has endeared Red to both fans and producers since she entered the industry in August of 2013. Not to mention her striking screen presence and the way she performs in a career that has spanned 50-something movies to date.
Red's work so far has been memorable enough to catch the attention of iconic director Michael Ninn, who shot her in a special project for producer Max Candy and the French powerhouse Marc Dorcel in October. Their collaboration went so well that Red said at press time Ninn was working closely with her on the launch of ScarletRedXXX.com, which will be her first official website.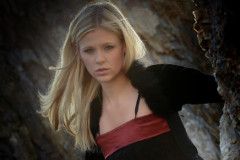 "What really inspired me with him is when he picked me he said, 'I haven't worked in the industry for quite some time now. I'm taking a break and I needed someone — a muse —
someone to inspire me," Red said. "I was like, 'wow, you've won all these awards and you've stopped filming and I make you want to create art again. That's amazing.' It felt like an honor."
The feature project, which has yet to be announced, entails Red as the main character who loses her innocence as a prostitute.
"It felt like a different character other than Scarlet Red," she said. "I was not Scarlet Red, but I was this other person, just another alternative personality and it felt really cool to be that person. Because that person felt very close to who I really am, besides the story of being a prostitute.
"The character being innocent going into a situation like that was kind of something I can relate to. It was an awesome experience. It was just a great time and I found more of the beauty in adult than I ever have before."
That beauty figures to shine through in her new site, which Red describes as "very cinematic, artsy and always sexy."
The 22-year-old has come a long way since working as a Certified Nursing Assistant and occasional mainstream model in her native Colorado before giving adult a try. The industry welcomed her with steady bookings during her first full year, when she racked up box covers and credits for studios such as New Sensations/Digital Sin, Hard X, Erotica X, Wicked Pictures, Adam & Eve, Jules Jordan Video, Adam & Eve and Hustler Video among others.
She also starred in her own showcase title for Adult Empire Films and received two 2015 XBIZ Award nominations — for Best New Starlet and Best Scene – Non Feature for her tryst with Ryan Madison in "Born Flirty Vol. 5″ for Kelly Madison Media.
Her big year led to her being an Official Trophy Girl on Jan. 15 at the 2015 XBIZ Awards ceremony at the JW Marriott at L.A. Live, where she graced the stage for the entire evening.
"I felt like the girls on 'The Price Is Right,'" Red joked. "Like, 'congrats this is your new car!' But it was fun, I liked it."
In another career highlight, the former volleyball player last year landed the cover of the Hustler magazine's 40th anniversary issue.
"They found pictures of me I did for Digital Desire and they loved the pictures but they needed a cover," Red said. "I was actually doing a mainstream movie at the time and I was in Vegas filming. They came to meet me out there to take the cover picture. It's in the MGM in a hotel room, on a bed. It was awesome."
Red recently did a "Day In the Life" feature with Hustler that includes her rollerskating at the beach, playing video games at Dave & Busters and random flashing that will be published in an upcoming issue.
"I'm also going to be signing for them coming up in Arizona," she said.
Even though Red thus far has enjoyed a terrific run at this stage of her career, she says there have been a couple challenges along the way, such as finding out what her comfort level is with certain types of scenes. Still, she said she chooses "to focus on the good things."
"I've had ups and downs but I've stood up for myself," Red said. "It depends on what situation you're in, but I recommend being very comfortable and figuring out what you want out of the industry and what you like."
So far, so good, according to Isiah James, publicist and agent for Ideal Image Models who calls Red "the Cameron Diaz of porn."
"Like the Cameron Diaz in 'Charlie's Angels,' that's who she reminds me of," James told XBIZ. "It's very easy to work with her, that's why I like her. She's reliable. She shows up. If she says she's going to do it, she's going to do it. She always outperforms everybody's expectations even though she's got the star expectation. It impresses me every time I sit across from her and listen to her talk."
James said Red is always "a step ahead."
"When I have a girl like that who can meet me halfway with everything I do it makes it so much easier to get her onto the next project and move her a step ahead of other people," he added. "Most girls don't ask those questions or meet me halfway when I'm trying to work things out."
"I feel like Ideal Image is just blooming," Red said. "I see more and more girls and fresh faces and they keep coming in."
For the rest of this year, Red also has her sights set on doing more mainstream projects and getting an elusive magazine cover.
"I have a goal. I want to be on the cover of Penthouse. I've been wanting it for a while," Red said. "I also want to be nominated for like Girl/Girl Performer or [Performer of the Year]. And I want to maybe direct once."
She added, "I just keep want to keep pushing forward and staying in a positive light and seeing if this is really what I want to keep pursuing."
Catch more of her at  therealscarletred.com